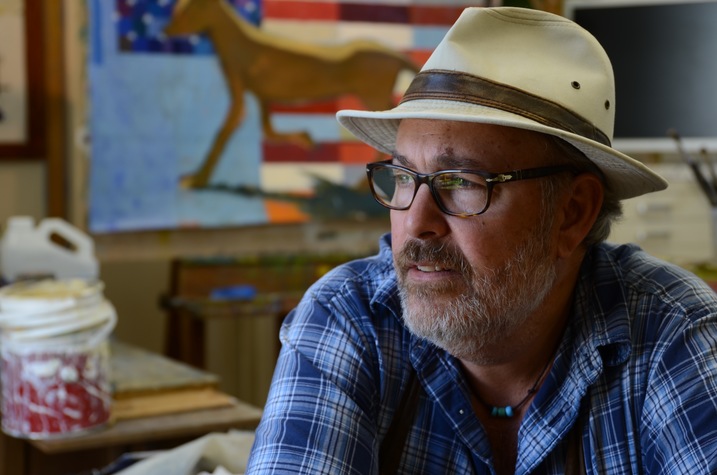 Doug Reina is a two time Pollock-Krasner grant recipient whose studio is in Setauket, New York.
Reina is a full-time artist who creates work both on location, as well as in his studio of the landscapes and people that are part of his life

Reina is also a cartoonist, whose work has appeared in the New Yorker magazine as well as with King Features Syndicate. He has recently published a book called
"
Doug Reina, Under the Covers
" which is available on Amazon and features cartoons and sketches pulled from the past 25 years of his sketchbooks.
For the past several years, he has held weekly painting lessons for adults in his studio.

In addition to painting, Reina enjoys collaborating with fellow artists. In 2021 he created a recurring zoom "Art-Hang" meeting with several regional artists to discuss art related topics. He also co-created and produced "Face to Face - Artists Painting Artists" an exhibition that was presented by the Long Island Museum in 2019. It featured approximately 60 works by more than 30 contemporary artists who sat for studio portraits of one another.
Reina's artwork has been exhibited in galleries, museums and public and private collections on Long Island, with some exposure in New York City, Connecticut and Florida as well.
Galleries and museums that have exhibited his work include:
• Reboli Center for Art & History, Stony Brook, NY
• Ille Arts, Amagansett, NY
• Ashok Jain Gallery, New York, New York
• The Heckscher Museum, Huntington, New York
• The Islip Art Museum, Islip, New York
• The Long Island Museum, Stony Brook, New York
• Peter Marcelle Project, Southhampton, New York
• Karen Mannix Contemporary, Watermill, New York
• Gallery North, Setauket, New York
• The South Street Gallery, Greenport, New York
• Ripe Art Gallery, Greenlawn, New York
• 9 East Contemporary Art, Huntington, New York
• M&M Gallery, Southampton, NY
• Sara Nightingale Gallery, Sag Harbor, NY
Reina's artwork is in both public and private collections including;
• Renaissance Technologies
• Stony Brook Medical Center
• The Bay Shore Brightwaters Library
• The Sebonac Golf Club